When you were a child, it seemed anything was possible. Your imagination turned a cardboard box into a house, a car, or a rocket. There weren't any limitations or rules to follow, and your curiosity was boundless.
When my son was seven, he told me that he preferred reading books over playing with toys because "there wasn't much else to do after you learn how to play with the toy." Stories inspired his imagination and his love of reading transformed into a love of gaming for the same reason.
Unfortunately, many of the cities that kids today call 'home', aren't designed to capture their imagination in the same way that books or games might. Much of the engineering and planning work around cities focuses on infrastructure, on securing and managing water, waste, energy, housing, transport, and supply-chains for food, and rightly so.
City planners are thinking about flood mitigation, air quality and myriad zoning regulations that ensure growing cities are 'liveable', none of which necessarily piques a child's interest or curiosity.
Of course, as adults, we understand the importance of critical infrastructure, but if we asked kids what they think is important for a city, chances are they would prioritise fun over function. And maybe they're onto something?
These are five ways to design fun into our cities
The United Nations has a Child-Friendly Cities initiative, which is a series of benchmarks for children in a city, to make them a place to play, free from exploitation and poverty.
With most children now spending their formative years in a city, here are five ways to make them more fun-filled for children and for the child within all of us:
1. Kids' Lane

Children move differently to adults. When given the freedom they run, ride bikes and cruise around on skateboards; they chase each other, make games out of their journey, and move in non-linear ways. What if they had their own lane?
Cities severely restrict children being able to move instinctively, largely because of the number of vehicles and the car-centric design of cities, especially the outer suburbs. However, we have a technology-shift in the form of Autonomous Vehicles (AVs). One of the upshots of AVs will be 'vehicle as a service' where we use cars on subscription rather than owning them.
The opportunity to ride-share will be greater as AVs are networked and overall road-usage efficiencies will be improved, meaning fewer cars on the roads. This frees-up road space to create kids' lanes where children can use bikes and scooters, and play games on the street.
Some cities in the US and South Korea have tried doing this and transformed some of their highways into urban parks. And just last year, Barcelona's city council announced to do the same in three of their streets in its Eixample district and create car-free public spaces to tackle air pollution.
2. Journey of Discovery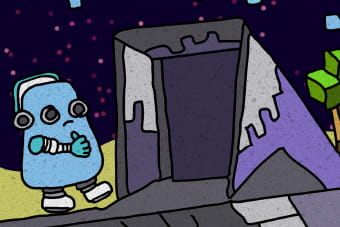 If we want our kids to sense wonder somewhere else than in their smartphone, we should think about how to produce that in the child's environment: the city.
One of the distinct features of a city like London or Paris, is the surprises you find around every corner: secret gardens, strange lanes, courtyards with unexpected activities.
There's the Tiny Police Station in London, the hidden Vanderbilt Tennis Club at the Grand Central in New York, and the Secret Compartment in Leonardo da Vinci's statue in Italy. They create a sense of wonder and excitement, and it's these surprises and revelations that could be designed into our modern cities.
The Royal Children's Hospital did exactly that earlier this year by conducting a public art trail of 100 unique and colourful art sculptures along the streets of Melbourne, Australia. Kids and families could take on different mini adventures to meet artists and explore new parts of the city.
3. Twin City Game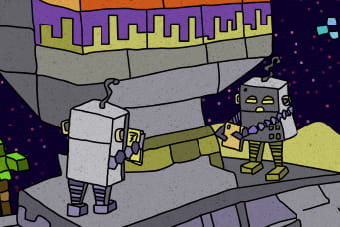 Modern engineers have a design tool they call the 'digital twin'.
Let's say they're building a ship: they first 'build' the ship in a 3D digital model and then, as the digital ship is constructed, the engineers and architects can see what design rethinks will do to the ship – before any alterations are made.
In order to get city-kids engaged in their surrounds – and in the issues confronting their cities – we could develop digital twins of our cities and allow kids to make changes and implement progress in the areas they feel are important.
The University of Colorado in the US has a programme called Growing Up Boulder, which engages with youth of all ages to get their ideas for city planning.
If engineers combine this idea with our digital technologies, kids wouldn't only be engaging in their love of digital games, but they will be encouraged to think about what has to be sacrificed in one place in order for something to be included elsewhere.
4. City as a Museum/City in the Night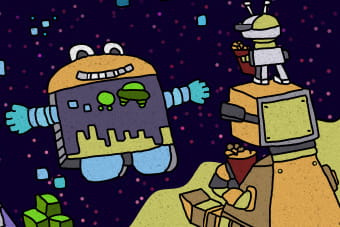 Augmented reality has become so good that we now have the technology to reproduce our cities as physical entities with digital layers revealing what lies beneath them, whether a building, a harbour or a railway station.
One of the most powerful and successful digital games of the recent past has been the Pokémon Go game, which overlays the actual streetscape with digital graphics and narratives. It draws the user into the digitally created world and yet the 'canvas' on which the user's response is painted, is the real world.
Cities can use such technologies to engage curious young minds and get them exploring the histories of their city. Secret City Trails is reinventing how people explore cities in Europe by taking people to different adventures and discovery games throughout the city, guided by a web app. Solving clues and challenges help kids – young and old – to engage with their place and surroundings instead of their mobile phones.
5. Game station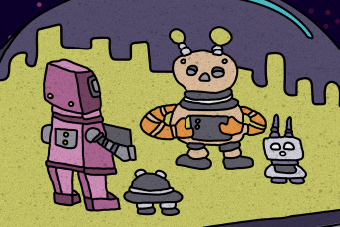 Most parents have a concern about the lack of exercise that their kids are engaging in, because of the amount of time they are spending on Xbox, PlayStation, Wii and Switch. When you add the urban restrictions placed on children because they cannot go out unaccompanied, there is a lack of activity among city kids that is likely to affect them in later life.
One thing we can do about a love of gaming but a paucity of exercise, is to build exercise into gaming cleverly, similar to how Urban Thinkscape sneaked puzzles and hopscotch into abandoned lots.
Cities could invest in Game Stations – publicly situated glass boxes in which five or six children at a time can play games that include actual physical movement. If you jump in the game, you have to jump in real life.
We have the technology to build such systems – look at Wii and Ring Fit. Game stations also provide opportunities for children to meet each other face to face rather than through the virtual space, which raise safety concerns over the actual identity of the 'virtual person'.
Are we ready to play with our cities?
Maybe, if we design our cities as places for children to express their curiosity, creativity and imagination, they may grow up exploring different possibilities for the future. They will challenge the status quo and solve some of the world's most wicked problems with playfulness, because that's what our cities will have taught them.
Just imagine what the world would be like then.
Click here to subscribe to Just Imagine.