These days, with the pace at which technology is outdoing itself, it's virtually impossible to hold your high ground as 'king of the hill'. As soon as we flash the latest iPhone, a new one is flaunting its 12 MP camera with ƒ/1.8 aperture at us. Just when we've nailed the art of geomapping, drones are brought in to scan and map work sites at a fraction of the cost and time. Tablets at this rate will be relegated to the ranks of LPs and fax machines–old school inventions that will have our own kids feeling old when their children laugh at what was once so 'cutting edge.' It's a marathon and a sprint in one; but the finish line feels nowhere in sight.
For children who've been unlocking iPads before riding tricycles, technology is Reality 101. But for many grandparents, the thought of overlaying furry kitten ears onto our Whatsapp profiles would be impossible, much less moronic. Thus, they are easily detached and disconnected from these trends, as technology furiously gallops on. And somewhere between the gap of tech savvy and technophobe is a market that demands attention, if we want to keep cornering our capital advantage.
Traditional marketing says that you need to keep catering for the masses if you want to stay ahead in this business world. And the perception is that one of the older generations is standing perplexed on the sidelines, lost among the hashtags, the trending, the likes, or the filters, that are happening online all at once. This is only half the truth.
The other half is that Baby Boomers alone (born between 1946-1964) represent the #1 consumer-age demographic in the United States ‒ and their investments in everything from travel to health care to e-commerce are only growing. Couple their collective consumer power with their longevity, and suddenly the need to integrate our silver economy into today's digital retail experience goes from a good idea to a downright imperative. Clearly, it's a no brainer: the digital economy is not only for the generations who will take the future, but for the generations who got us this far.
Going strong at 55, and counting
Currently, the 50+ demographic is batting at 111 million strong in the USA, while 25 per cent of the EU population is comprised of older citizens. So vast is the US silver spending power that their total $3.2 trillion a year outweighs the GDP of nations such as Italy, Russia, the United Kingdom, Brazil and France. The population is a formidable economic force to be reckoned with. But here's the clincher ‒ this global group is only growing.
Retirement plans are extending, as people are expected to live longer than projected. In fact, by 2025, the 50+ will outnumber their American youth 3:1 (a 2:1 ratio in Europe by 2060), and there will be more very elderly people in the EU than children under five.
This is an almighty pill for our pension plans to swallow; but for businesses willing to rethink their brand and delivery, it's a recipe for market opportunity. The need to address our needs doesn't stop when we hit our 50s or 60s.
In fact, to some extent, that's when we need it the most. Older and frailer populations bring a new set of physical, emotional and health needs to the table, which (with the right offerings to match their technological competencies) can open big business doors. Boomers find themselves tight pressed in the sandwich generation ‒ meeting the needs of their elderly parents while delaying shoving their Gen X/Millennial kids out of the door.
In other words, they have everything from arthritis medication to iOS upgrades on their plate to tend to. Business would do well to consider the 'everything in between' and offer ease in providing it. After all, technology or innovation (when done for the right reasons) is for everyone ‒ no ifs, no buts, or age limitations.
More savvy than you think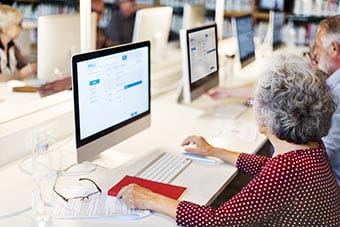 Contrary to public perception, many of our silver citizens are not tech adverse. Considered the first 'digital immigrants', a swelling proportion of the 50+ demographic is cosying up to Siri and learning to order those groceries online. In fact, a Pew Research Centre report found that 59 per cent of seniors (ages 65 and older) use the Internet regularly, and 47 per cent say they have a high-speed broadband connection at home.
And when it comes to shopping on mobile, one in four people aged 55 and older prefer to shop from the couch, according to a report by BI Intelligence. Cyberspace provides socialising, shopping and learning opportunities for people who are increasingly isolated and physically frail (so much so that 90 per cent of affluent households can be found surfing on a daily basis). The stats seem to suggest that Granny might just surprise you these days.
Adapting the experience
The key, however, is to meet Granny where she's at. This not only translates into the kind of products and offerings we need to consider; it refers to the way we understand their lifestyles, and how we can offer a more relevant retail experience to a conventional demographic.
For example, as older adults 'age up' and join the digital revolution, Evelo, an electric bicycle start-up company, is also 'reaching down' to meet their targeted senior market, by providing 'Ambassadors' who visit your home and help with a test drive.
Aside from this, companies also need to consider the distraction of flashy ads, cookies and pop ups for a 50+ clientele, and simply 'get to the point', with a convenient click to a real live person who can walk you through the process. Online chats where consumers can connect over honest, real time conversation is more effective than all the trendy hashtags that operate as Millennial magnets. We need to blend the physical and digital into one seamlessly integrated showroom, stocked with inventory, rewards and promotion, like the sense of one-to-one engagement and customer care that an omni-channel experience offers. It's as close to 'walking the department floors' as can be from a thousand miles away.
Let's face it. The silver economy is a goldmine. It is a market that has existed 'ever since', buried under the sand, and is now waiting to be dug up and tapped. There are many needs to be addressed, and difficulties that we can ease. The opportunities for technological solutions are endless!
The key though, to extracting the silver economy's precious value, is in adapting our digital landscapes accordingly to bridge the generational divide. Some of that comes with education; some of it with innovation. (And yes, that means it would do us well here to bring our high tech a little lower.) But the more we can approach this journey by integrating the past, the better future we'll forge.
By the time Millennials reach their 50s, 60s, or even their 70s, smartphones, Virtual Reality goggles and drones may no longer be their thing, but they will still use technology for the same effect it has on their lives now: easier, efficient, and more comfortable. Now, that sounds like something Granny might find on Google and click on.