Have you ever experienced that feeling when you had to stop and take a mental picture of your surroundings, taking in every second, every moment you had in that place? Those moments when buildings became monuments, when a bridge became the place you met, and arches become childhood landmarks that welcome you home. Regardless of whether you want to preserve that memory or not, you just know, then and there, that a piece of this place will always be a part of your life, no matter what.
For Londoners who survived the Blitz in World War II, one of these places is the Underground. Back then, air raid sirens screamed as families rushed to take refuge underground. Crowds of people piled in and pushed tightly together, panicked eyes darting around. Parents clutched children; children clutched teddy bears.
An immense droning magnified the destruction above, as people waited in the corridors of sanctuary beneath the city.
Since that moment, the Underground had a new profound meaning for Londoners. The tube is not just a modern day metro system for England's WWII survivors; it formed an integral part of people's lives, letting the memories that transpired back then live on.
Spaces have stories, and it's our job to capture them. The Stari Most, Sydney Opera House and the Te Rewa Rewa Bridge all have similar historical meaning; inspiring users and visitors alike. How can today's engineers impart significance through design and create structures that are more than functional pieces of engineering, reflecting the past and shaping cities people want to live in?
Engineering is evolving
Don't underestimate the power of sentimentality to forge value and galvanise community support around spaces. Engineers have traditionally been trained with a specific set of skills. Projects involve research, calculation, design, and construction to produce something useful, practical, and problem-solving.
What has been overlooked in training is the consideration of the social impact a project may have on a population. It seems that following the plan, ticking a box, and moving on is no longer accepted as 'job done'.
Today, our engineers must ask 'Why?' and 'How will people respond?' to seek understanding about where the surface problem lies and uncover the underlying needs of the community. The ultimate question is: how do we define success in a project? By identifying how people will use and respond to this infrastructure, engineers can address wider issues and design to accommodate the needs of a community.
Leading academic Professor Roberto Verganti puts it this way: if all of London was on fire, which part of the city would you save? An entire generation might choose to save the very construct that saved their lives: the Underground. It has served above and beyond its initial intent; to say that the tube was a successful project would be an understatement. Don't underestimate the power of sentimentality to forge value and galvanise community support around spaces. When you think design, he argues, think beyond the commercial value of a project to include its historical significance.
The power of projects to pick up the pieces
When designing, look for opportunities to rewrite and redeem a broken story. Projects can be platforms for healing and restoration.
That's what Bosnia's Stari Most Bridge project has illustrated over time. For centuries, the iconic bridge was a proud symbol of its city but, in 1993, Croat military forces deliberately destroyed this pedestrian walkway as nothing other than an apparent act of 'killing memory'. It was a "tremendous blow to morale and a strategic victory for the Croats", which left a cultural heritage and 16th-century bridge in shambles at the bottom of the Neretva River.
Fast forward one decade to a post-war Bosnia, utterly determined to pick up the pieces of their splintered past. After huge demand for the heritage and meaning to be restored, the bridge was rebuilt in 2004 with the same materials and technology as before.
Parts of the original bridge were fished out of the river and grafted into the tenelia stone as a statement of resilience and patriotism. Today, the Stari Most Bridge is one of the country's most recognisable landmarks and a symbol of what can rise from ruins when a nation works together.
A city icon reconnects with indigenous cultural meaning
The Sydney Opera House is undoubtedly one of the great architectural masterpieces of the 20th century. Its iconic sails are a meaningful feature of Sydney city's skyline. Danish architect Jorn Utzon blew architectural expectations, advancing technology ahead of its time, and generating passionate community debate in the process.
Upon completion in 1973, the long history of the site of Bennelong Point was changed as Australia raced to define itself as a new land with this innovative building. The fact that a Wangal man, Woollarawarre Bennelong, was given the land in 1790 to build a hut was overlooked. But the Opera House, in time, and as necessary, grew to involve Aboriginal culture and give the once-forgotten Bennelong history a new platform.
The opera's sails were reinvented in July 2017 as sky-bound canvases to celebrate the rich and vibrant heritage of Australia's indigenous community. During the week of the National Aborigines and Islanders Day Observance Committee (NAIDOC) – exactly 50 years since indigenous peoples were included in the census – the stark white facades were illuminated in extraordinary indigenous artwork known as 'Badu Gili.'
So powerful a presentation, Sydneysiders have been enjoying the show ever since. For seven minutes every evening, the Opera House is emblazoned in colour and light, a palette on which to write the story of Bennelong and his people into the Australian narrative.
Inclusive design to create significance
With the higher level of education and wider understanding of today, engineers should celebrate rich cultural histories in their progression of projects and achieve inclusivity from the beginning.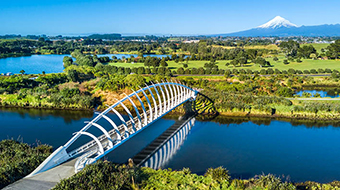 In 2010, the Te Rewa Rewa Bridge in New Plymouth, New Zealand, was thoughtfully and sensitively designed from the start, taking in the history and culture of the land and its people.
On the Northern side is a historic pā and burial ground, and the arch hangers are curved lightly at this end to honour the deceased. Entering the bridge from this side, the elegant white ribs of the structure frame the magnificent Mount Taranaki in the background, positioning the mountain in perfect view for people leaving the sacred ground.
This extension to the Coastal Walkway was made possible by a special agreement between the New Plymouth District Council and Ngāti Tawhirikura hapū; with the social impact of the bridge understood and considered at the design stage, and the history of the site respected and integrated.
While this Bridge is a popular destination recognised for its design and picturesque appeal, it's the meaning behind it that has created a huge impact on all visitors.
Can we design meaning into projects?
It's true, it's difficult to predict (or contrive) the meaning a building could have at the design stage; sometimes it takes generations, cultural events, disasters or even war to shape the meaning of infrastructure.
A brand new shiny skyscraper isn't going to cut it as a historical masterpiece overnight. But engineers can broaden their thinking; embrace a humanities-socio-cultural approach: begin to ask 'how will people respond?' and consider the many facets of communities before putting pencil to paper.
Imagine a future where the design process is led by the who and not by the what's of our briefs. The more 'human' our solutions to tomorrow's problems, the greater chance we'll be building monuments that become meaningful parts of people's lives and not just monoliths.