Millennials. Employers have denounced them as a generation who require constant affirmation in order to get hard work out of them.
But what if we have it all wrong? What if the secret to our techno-centric future is unequivocally tied up not so much in our acceptance of Generation Y – aka the Millennials – as our willingness to actually emulate them?
Picture a world without books: a dystopian future in which, under the guise of advancement, mankind has unknowingly traded imagination and creativity for technology.
If this picture frightens you, you probably aren't Generation Y – the largest living generation – who would embrace this future in much the same way that it has every curveball thrown at it. Never mind embrace it, their perception would be wholly antithetical: To a millennial, a world sans books represents the very epitome of progress.
If we want to progress, to think beyond tomorrow – beyond disruption – we have to embrace this mindset. It's crucial to our future – and a must if we're to position ourselves for acceleration.
Who Millennials are – supposedly
Generation Y has been derided as a lazy, entitled lot, as evidenced by their many monikers, including Generación ni-ni (neither studying nor working) in Spain, Generation Maybe in Germany (so overwhelmed by opportunity they fail to commit to anything), ken lao zu in China (for their perceived lack of focus), and the Curling Generation in Sweden (a reference to the sport and in jest of a generation which supposedly has it easy).
What Millennials have achieved
We have to consciously engage a Millennial mindset.
According to the 2014 Duke University/CFO Magazine Global Business Outlook Survey, 21 per cent of CFOs said Millennials are more creative and innovative than other workers – and they work for less. The same survey said that more than 70 per cent of CFOs said that one advantage of hiring Millennials was the technology savviness they brought.
Their innovation can be seen across industries. Among Forbes' list of seven new companies started by Millennials is Snapchat, which provides a platform for users to share photos and chat through their smart devices. Then there's Synotrac, which has pioneered a sensor that detects early biomarkers for infection in the synovial fluid of the knee.
In 2015, Huffington Post published a list of eight startups which turned Millennials into millionaires, including makeup subscription company Ipsy, news summarisation app Summly – founded in 2011 by the then 16-year-old Nick D'Aloisio – and Theranos, a company which specialises in a painless way to draw and test blood and which launched its founder, Elizabeth Holmes, into billionaire status before the age of 30.
You can't beat 'em …
It's not even about that. An outright dismissal of Millennials would constitute a grave mistake; we're effectively writing off our future in much the same way that every generation – from the Silent Generation (born before 1945), to the Baby Boomers and Generation X – has decried the generation succeeding it.
Stereotypes and preconceptions aside, here's the hard fact: By 2025, Millennials will constitute 75 per cent of the workforce.
… It's time to join 'em
Just like technology has obliterated global communication barriers, we need to break conventional mindsets regarding how we do business.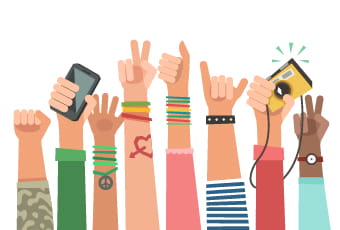 To do so, we have to consciously engage a Millennial mindset. That entails the ability to think independently, challenge the status quo, push boundaries, create new paths, bring about social change and roll with the punches – all key Millennial traits.
These digital natives filter everything through the lens of technology. It might seem preposterous to older generations – but to Generation Y, technology and social networking isn't optional; it's how they operate and make sense of the world. They're seriously plugged in, not only riding the wave of technology with an almost innate ability, but also orchestrating the advancement of that technology – both through their creation of groundbreaking technologies and their demand for it.
This tech-savvy approach has also made them forecasters of future trends – they think beyond the here and now. As such, they're the key to our future. Not just that: we also need to think tech – to consume it almost as if by osmosis! It's the future calling.
The consequence of living through several world crises is a constantly changing socio-economic landscape; it has rendered Millennials a highly resourceful and entrepreneurial bunch. And it's this resourcefulness and entrepreneurial spirit that has to be woven into the genetic code of our companies to enable a culture of accelerated innovation.
A fast-paced news and communication environment means that we need to also be instantly responsive and adaptable, in the way that Millennials – who've grown up in this environment – instinctively are.
They've also deconstructed the very definition of work: being part of a global network means that the office walls have been eroded and work can take place anytime, anyplace. They want to redefine the work paradigm, taking it beyond work-life balance to work-life integration.
For business, that means being willing to rethink work environments and operations. We need to be open to a changing work environment, one in which a flat corporate structure is celebrated over a rigid hegemony; where employees are nurtured and social responsibility forms the very bedrock of our value system.
We also have to be as willing to learn from Millennials as we are to mentor them. An exchange of philosophies and skills which stems from a mutual respect for the other person will produce far better results than competing for sole recognition.
A Millennial movement
Ultimately, if technology is the axis on which the world of business spins, forget disruption. To remain cutting edge, we need to inculcate a spirit of entrepreneurship and a culture of innovation within our workplaces.
To do this we have to adapt our business environments for a Millennial movement – or risk those very businesses becoming white elephants.
And where would that leave us? Probably clutching our books, unwilling and unable to make sense of a world transformed by augmented reality.