An athlete's natural ability is one thing. The sheer grit, sweat and grind of the journey leading up to the pinnacle of achievement, quite another. Perhaps this is why psychologists have made careers of studying Olympians at the top of their game; and why 'elite sports' is a powerful metaphor for businesses wanting to win a 'gold medal' in performance.
Aurecon Olympian Jane Moran shares some uncommon truths about what winning bronze in water polo at the 2012 London Olympic Games taught her about business imperatives.
Learning to lose before you win…
It sounds counter-intuitive, but sometimes our ability to lose is literally a defining factor in terms of setting us up for success. Rejection or disappointment in sport (and in business) is not a question of if, but when.
As water polo athletes, our team trained for years in order to bring home Gold. When we lost in the semi-final during extra time, eight years of dreaming about coming out on top came crashing down around us.
Although a loss like that was emotionally draining, we couldn't afford to dwell on it. We took a decision to deal with our disappointment (thoroughly) later and focus first on the next battle – competing in the bronze medal play-off two days later, which we went on to win.
Roger Martin, former Dean of the Rotman School of Management who wrote Playing to Win: How Strategy Really Works, explains that to win, you must have a mindset of playing to win. In our case, we were not simply 'playing to play'. It was a 'playing to win' mindset, despite a great setback, that saw us take home that bronze medal.
Playing to your strength isn't (always) the best strategy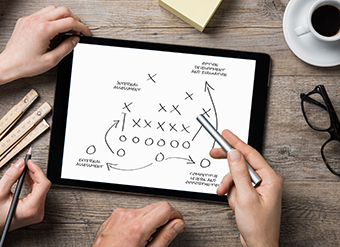 A sports team comprises a mix of players. Some are forwards – those who spearhead a team's strategy and are on the 'frontline' of strategic play. Some are the defenders – they manage a crisis when the play goes wrong in order to fend off disaster. Some are strikers – those whose job it is to recognise opportunity and to act upon it to fast track success.
Although a team may have many natural forwards (or defenders or strikers), it's crucial to realise that sometimes, fulfilling the role you naturally gravitate toward isn't what's best for the team or its playbook. A team of only forwards or defenders or strikers would result in certain defeat.
It has taken time, but our team is now able to operate like a well-oiled machine because we've agreed what roles are best for our strategy, and agreed which of them each of us will play, egos aside.
Similarly, Roger Martin asks in his book a very powerful question about capabilities: "What capabilities must be in place to win?" Sometimes, emulating these capabilities is what's needed to succeed.
There isn't always time for 'good' communication
At the beginning of our journey as a team, it became clear that we needed team members who were great at giving short, sharp commands in the pool; and team members who were good at listening to these. Too often, we 'listen' through filters such as: "Why are you telling me what to do?" and "I know better!"
Within a pressured, high-performance environment, it's crucial to understand that when the pressure is on, there's generally little time for stroking egos and niceties. It makes a lot of sense to reduce instructions from sentences to a few words in time-constrained situations. Delivering such instructions was a learning curve, and receiving them an even greater one.
Management theorist Simon Sinek likens this, in business, to creating an environment of unwavering trust and cooperation. He advocates for the kind of environment in which you believe that if you were to go to war as a team, your comrade would save you; and you would do the same for them. This notion of teamwork transcends the common definition of the word 'team' that we use so loosely in business.
Teamwork is an individual sport
It may sound selfish, but focusing on yourself is sometimes the best thing you can do for your team. A winning team has, at its core, individuals who must repeatedly ensure they are at their peak to ensure both their selection for a team, as well as team success. If each member focused individually on improving themselves on a continuous basis, or what we call the 1 percenters, the sum of these improvements may be enough to ensure that team scores the winning goal during a really close match.
In our case, we took Bronze during the dying moments against Hungary. While this was a team effort, it was also a culmination of individuals at the very peak of their skill set, and can be attributed to the individuals improving 1 per cent every time we trained, spoke or thought 'water polo'. At the Olympic Games, every team is great and the team that is a percentage better than the rest will be victorious.
In the business world, we've been inundated with the notion of collaboration. However, the Harvard Business Review article Collaborative overload cautions strongly against ignoring this wisdom, saying: "Soon helpful employees become institutional bottlenecks: Work doesn't progress until they've weighed in."
The fact is that teamwork can energize or exhaust. 'Me' time is crucial, and: A continuous desire to improve oneself is an important attribute of leaders if they are to keep on performing well in a team environment.
While it's easy to draw comparisons to the dedication and time that winning takes, it's often the unrecognised truths that have the power to make the greatest impact.
Next time your team's performance declines, it may be worth asking if you are good at 'losing'; if you're willing to fulfil a role other than the one you're naturally good at; if you should forget 'being nice'; or if being 'selfish' is called for…
If you want to win at work, Roger Martin might say: "then play to win!"