The classic corporate leader image is steely, guarded, unflinching. Focused on business performance and outputs, with no need to delve deeper into personal interaction with their team members. However, studies are finding that a traditional, one-dimensional approach to leadership is detrimental. A new business paradigm is needed altogether.
How often have we heard it said, "They wear their heart on their sleeve"? In some settings this can be a compliment. But let's be honest, in the work context, particularly in industries such as engineering, it's often said as a criticism.
Research (and experience) suggest that emotional intelligence, more than skills and education, ranks top of the list in predicating career success. Corporate cultures that are cognisant of the affective values which govern an organisation's emotional culture build companies that can buffer radical change with reinvention, led by employees who love their jobs and tend to stick around for longer.
Leaders who consciously craft unconscious elements of organisational culture and prioritise "softer" areas like high engagement, empathy and trust are currently reaping the rewards. Here is why we recommend that leaders hang up their jackets and expose that heart pinned to their sleeves.
Showing your true colours
Historically, leaders have been recognised for being unemotional – thinking with a clear head, definitely not with the heart.
The world of work today is a moving target. Just when one company gains the home ground advantage, the rules of the game are again disrupted and redirected. Markets are continually morphing with new technologies and accelerated delivery demands with resultant need for change in strategies for leadership, talent, and human resources.
Technology has turned corporate walls into glass doors; with the tap of a screen people can see deeply into an organisation (and its leaders and values) and choose if they want to be a part of it. As work demands increase, Milennials and Gen Xers are expecting blurred edges when it comes to organisational structure and solid lines when it comes to character, transparency and engaging with their teams.
In its 2015 Global Human Capital Trends report, Deloitte notes: "The balance of power in the employer-employee relationship has shifted – making today's employees more like customers or partners than subordinates." That's why it was no surprise to see 'culture and engagement' rank highest amongst 2015's top ten trending themes and the, people recognising it as a "very important issue" practically doubling in a year, from 26 per cent to 50 per cent.
Organisations are essentially waking up to a big idea. "Naked" organisations – authentic, exposed with nothing to hide – will hallmark our future economies. Far more than our products and services, the values which drive them are laid bare for critical review. If we ignore these traits and fail to address the "hows" of our operations and culture – how we lead, how we develop and how we inspire people – we will go the way of the dinosaurs.
The power of trust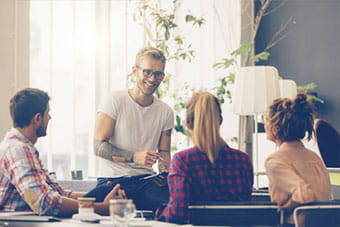 Trust is the game changer that tips 'bottom line'-based organisations into positive and meaningful places of work. Though traditionally viewed as a 'soft' and immeasurable quality, trust throws down some hard evidence to argue otherwise.
Through a neurological study on the relationship between trust and economic performance, Paul Zak compares people in high-trust companies with those in low-trust companies and finds: 74 per cent less stress, 106 per cent more energy at work, 50 per cent higher productivity, 13 per cent fewer sick days, 76 per cent more engagement, 29 per cent more satisfaction with their lives, 40 per cent less burnout.
Extending trust is about opening channels – channels of authority, autonomy and communication. A 2014 Citigroup and LinkedIn survey backs the idea that loosening the leash and giving colleagues space to run is empowering: nearly half of employees say they would give up a 20 per cent raise for greater control over how they work.
In another study conducted by Gallup in 2015, 2.5 million manager-led teams in 195 countries saw improvements to workforce engagement when supervisors reported directly and daily to them. And Jim Whitehurst, CEO of open-source software maker Red Hat, found that small, honest gestures, like asking for help, "had the opposite effect than he [I] would have thought. It helped build credibility."
This employee-centric approach rallies greater collaboration, participation and productivity. Innovation naturally is born, because people are given the space to create and they feel 'believed in'. Through verbal and non-verbal trust elements of organisational culture, workers are encouraged, even challenged, to invent beyond the ones who outrank them.
Measuring immeasurables
Some companies (though, sadly, still the minority) have moved beyond tokenism and intentionally invested in their emotional cultures, which in turn has generated very positive results. Emotions like joy, fun and excitement drive productivity and healthy competition (and just make work a really fun place to be, considering how much of the time we are there!). Rob Katz, CEO of Vail Resorts, for instance, has picked up on the galvanising power of joy to unite company ranks, foster hospitality and retain top talent. Everything from outings to rewards to on-the-job behaviour must encapsulate the company mission to "go out there and have fun".
So when 250 executives and employees take on the Ice Bucket Challenge, or a ski lift attendant spontaneously breaks out into song, there is a culture at play that just makes intuitive sense.
Shouldn't we take playfulness more seriously in our own industry? Imagine Project KRA (Key Results Areas) not based on an employee's "engagement scores" but on 'heart leadership'. Accreditation systems that go beyond measuring compliance to target indicators such as project team inclusivity – teams taking deep pride in their "5-heart rating". Quantifiable data that credits our performance when we engage in valuable or impactful conversations with our colleagues.
As organisations, we need to remember the only way to drive an open and authentic culture is by the leaders we promote, the values they hold and the behaviours they display.
Values are caught, not taught, and leaders must lead by example. If we want to build businesses that brave the times, we have to exchange our 'general and soldier' methodologies for more honest and unpretentious processes that build organisational culture from the inside out – beginning with ourselves.